Lutynski Concrete uses high quality products coupled with industry proven application techniques to produce some of the most durable and attractive concrete in Ozaukee, Milwaukee, Washington and Waukesha Counties. Whether it is plain gray concrete, or intricate stamped, colored or decorative patterns, it is our attention to detail from start to finish that set us apart.
Stamped concrete is a system that duplicates natures texture with incredible realism and durability. It's a great way to add value that will last. All of our stamps are classic time tested patterns that will never fade or go out of fashion. Whether it's the look of slate, limestone, brick or wood, these patterns will add not only beauty and appeal to your property, but value as well. Lutynski Concrete will spend time with you, one on one, to create an attractive, modern, and artistic design to complement the feel and setting of your property.
---
Stamped concrete is a great material for a pool decks, sidewalks, driveways, patios or any other concrete project because it can be poured in a variety of colors and textures and will last for many years to come. When properly sealed, the color of your stamped concrete will not fade in the brutal Wisconsin summer sun nor will it crack in the cold winters. Furthermore, the textured surface of stamped concrete will prevent slip-and-fall accidents.
We at Lutynski Concrete want to be your 1st choice for all of your decorative concrete needs. We pledge an outstanding customer experience utilizing the diligence of our experienced crews, the ingenuity of our project managers, and the creativity of you our customer resulting in a uniquely beautiful decorative concrete finish to showcase and take pride in for years to come!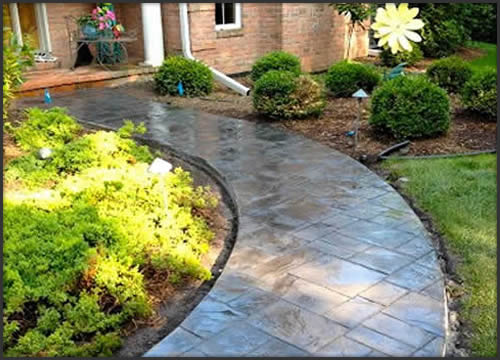 Stamped, Colored & Decorative Concrete can be used for:
➥ Pool Decks
➥ Patios
➥ Sidewalks
➥ Garage Floors
➥ Driveways
➥ Overlays
➥ Walkways
➥ Basements and more.
Call us at 262-375-7424 for a no-hassle free estimate of your next decorative, stamped or colored concrete project.
Click here to see some of our client testimonials..